In this BioTrust collagen review you'll uncover everything you need to know about this age-fighting supplement and whether or not it's worth your money.
There are a lot of collagen supplements out there on the market today as it's become a very popular product over the past couple of years. With so many collagen supplements flooding the market it's easy to get confused about which ones are the best and are worthy of your money.
You might have heard taking collagen is good for your skin, hair, joints, and health but is it even worth taking? You'll uncover what you need to know plus what to look for in the best collagen supplement below…
Nobody wants to buy a collagen supplement and end up not getting the benefits that were promised to them. So in this review, I'm taking a deep-dive into BioTrust ageless multi-collagen to see if it's the real deal or just hype.
Be sure to keep reading to get the rundown at collagen, BioTrust collagen, what it can do for you and whether or not it's just another fad or worth taking.
Get Ageless Collagen (51% OFF)
Why Collagen Is Good for You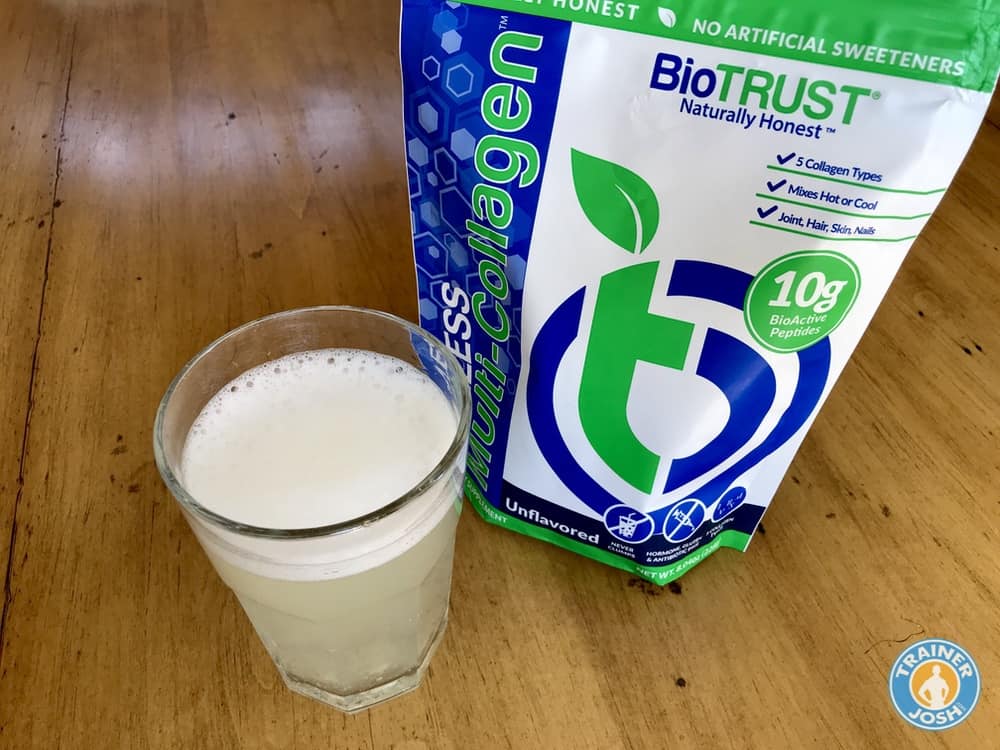 When you're in your early 20's your skin is smooth, wrinkle-free, spotless, thick hair, your teeth are bright white and your joints never felt better.
So what changes over time?
The sad fact is we all age and our bodies stop producing collagen the same way it did in our youth. Once you're in your early 20's your body will slowly start to produce less and less collagen every year (1). So much so that your body might only be producing half of what it used to when you were in your early 20's.
And if you're not taking excellent care of your health, nutrition, and fitness then you could easily experience even worsening effects of depleted collagen. Lifestyle factors such as smoking, living in a polluted environment, eating too many bad foods, not exercising enough and too much sun can all contribute to the compounding of the negative effects on your skin, hair, teeth, and joints (2,3).
That's why people who age end up having similar age-related problems such as increased wrinkles, sagging skin, weak teeth, sun spots, stiff and achy joints, thinning hair and more. A wise man once told me when I was a kid… "Never get old!"
I know this can be super frustrating for anybody but the good news is you can replenish this lost collagen production in your body by supplementing with collagen itself. Doing so will help to reverse the age-related damage to your skin, hair, teeth, and joints caused by a lack of production and other negative lifestyle factors (4,5).
Does collagen really work?
Collagen is essentially a protein that makes up the bulk of the connective tissue in your body. It's kind of like the "structural support" for your skin, hair, teeth, and joints. Once your body's production of collagen starts to go down then the strength of the integrity of your connective tissues will also start to go down.
Collagen makes up 75-80% of your skin so it's common sense that many of the age-related negative effects on your skin are caused by lack of collagen (6). Collagen peptides are shorter chains of amino acids of collagen itself which are more easily absorbed by your body.
A recent 4-week double-blind placebo study found 4 weeks of collagen supplementation resulted in significantly improved skin elasticity in the post-menopausal women participants. Better skin elasticity means fewer wrinkles, smoother and tighter skin (7). Researchers have said collagen has a "remarkable anti wrinkle effect." (8)
Should you take collagen?
If you're looking to improve the age-related appearance of your skin, hair, teeth and have stronger less-stiff joints then taking a collagen supplement might be right up your alley.
The problem with trying to get your collagen through your diet is it's very hard to do so (9). There is more than just one type of collagen your body needs if you want to get all the benefits. And with each different type of collagen, your body will receive differing benefits. Just about all collagen supplements on the market today only have a few types (if that much) of collagen.
Benefits of BioTrust Ageless Collagen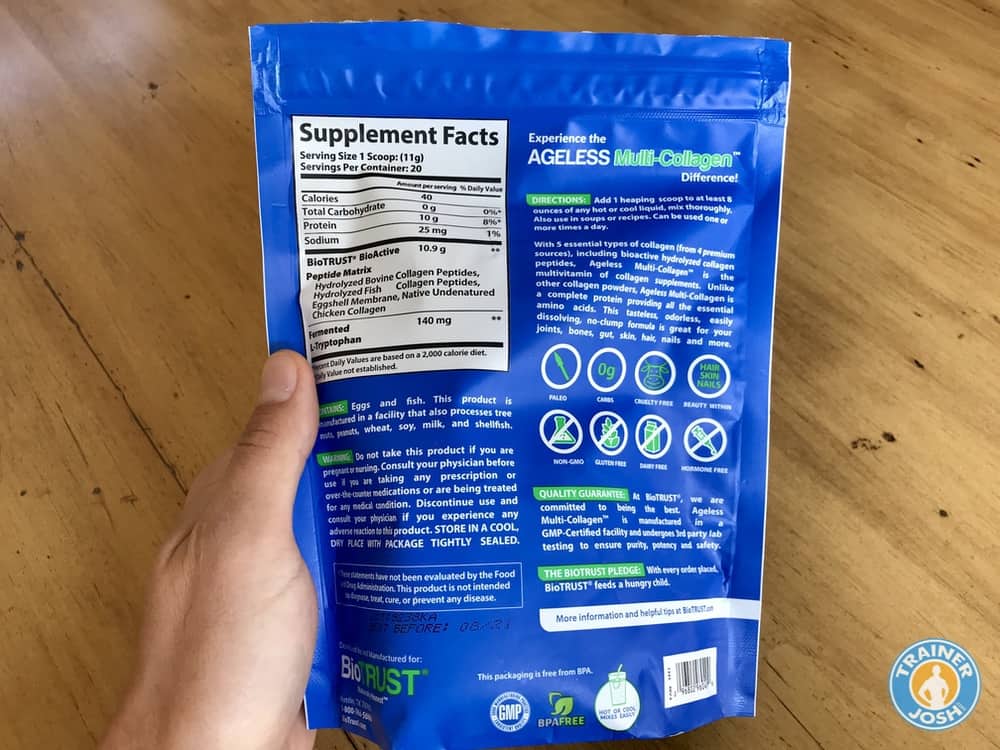 The biggest benefit of taking BioTrust Ageless Multi-Collagen is it has all of the 5 right types of collagen from multiple sources you'll need to get maximized benefits. This is ideal since you can't find this combination of collagen anywhere else on the market and in these specific proportions. You could easily be missing out by taking other collagen products that don't meet all of these ingredients.
Another benefit I want to mention in this BioTrust collagen review is the collagen is naturally hydrolyzed. This allows the collagen to be absorbed much easier so you can get even more of the benefits. It's a little shocking if you would know just how hard it can be for your body to properly absorb supplements but hydrolyzing collagen makes it significantly easier.
One of the reasons I'm hesitant to recommend other collagen products is they're not a complete protein. BioTrust Ageless Multi-Collagen contains all the essential amino acids (EAAs) including tryptophan to make it a complete protein. Your body can't produce these EAAs on its own and they need to come from your diet.
The Taste Test… Did it pass?
Now I've tried a handful of collagen supplements that you'll find on store shelves that just taste too weird. They also have a bad smell which will make you not even want to take them in the first place. If you've ever tried to mix some other collagen products then you'll know they clump together and don't blend very well depending on what you're mixing it with.
I was happy to find just how easy BioTrust Ageless Multi-Collagen mixed into any liquid I tried with it. Now I'll usually toss in a scoop of collagen into my protein shakes along with some MetaboGreens and it mixes effortlessly. There's also no weird taste and to be honest I couldn't even tell it was in there. Which is a good thing!
But I've also just used plain cool water as a base for the BioTrust collagen and that works perfectly fine too. Just make sure you don't mix it in with scalding hot coffee since it could denature the collagen. Also since collagen is a complete protein you'll most likely break your fast if you're practicing Intermittent Fasting.
Cons of BioTrust Collagen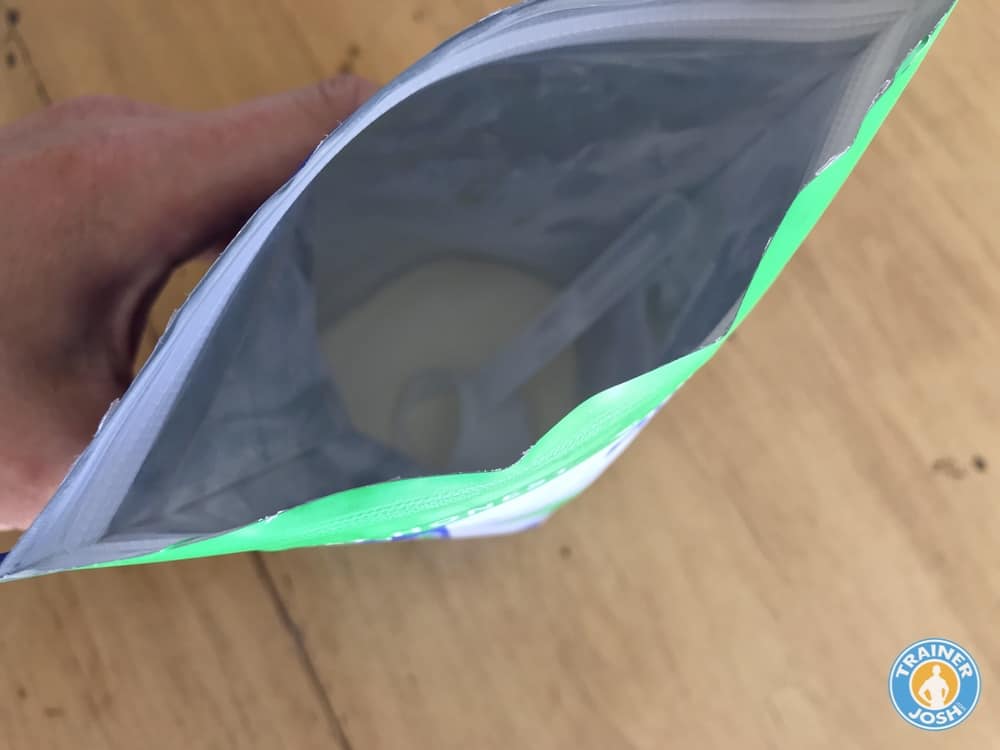 Since you won't find BioTrust on store shelves you're going to have to order it through their website. Now, this is convenient because it'll save you a trip to the store but that means you're also going to have to wait a couple of days for it to arrive. But with a little patience, it'll be worth it to get a much superior collagen product than what you'd find on store shelves.
Since collagen is sourced from grass-fed, pasture-raised cattle, fish and chicken it won't be considered vegan. So if you're vegan then this might not be the best option for you.
So… Should You Get It?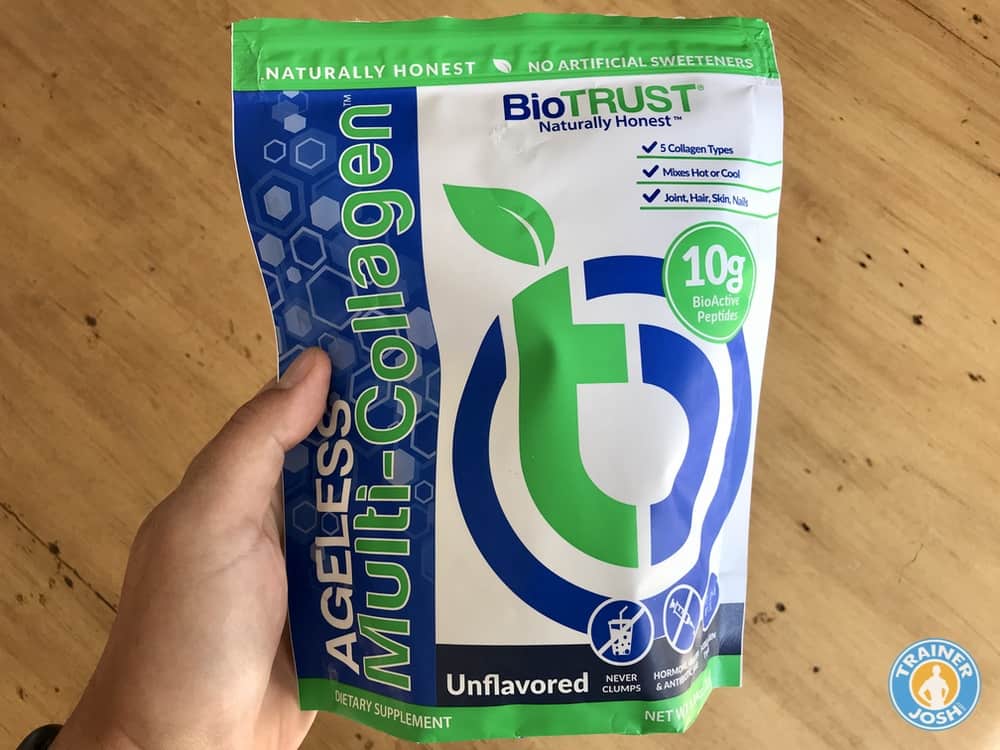 If you're looking to smooth away wrinkles, tighten sagging skin, lighten up dark spots, thicken your hair, smooth out cellulite, strengthen your teeth and joints then supplementing with BioTrust Ageless Multi-Collagen is for you. You'll notice some quick results by taking it but you're going to get the best benefits and results by taking it long-term. Like said earlier your body's production of collagen goes down every year so it's best to keep taking it over the long run.
Can you take too much collagen?
BioTrust ageless collagen contains 10g of bioactive proteins per serving and your body can easily take more than Daily Recommended Intake of 0.36g per pound of body weight. Many people looking to maximize the benefits double-up on servings per day of collagen. So you can't really take too much collagen as long as you're taking a reasonable amount.
BioTrust Collagen Where to Buy
You won't find BioTrust Ageless Multi-Collagen on store shelves as it's sold exclusively through their website. But this is good for you too since they can charge less this way by cutting out the middle-man. They use 256-bit encryption on their website which is the same security used by Amazon so you know you're safe. You can get up to 38% off the price of Ageless Multi-Collagen by using the button below…
Get Ageless Collagen (51% OFF)
What is the best collagen to take?
The best collagen to take is one that contains all 5 of the right types of collagen. This way you'll maximize the benefits and not miss out on anything. Plus you want to find one that is hydrolyzed which will make it much more easily absorbed by your body. Finally find one that mixes easily and tastes good or is tasteless… otherwise, you won't want to take it!
Is BioTrust a good company?
BioTrust is one of the few supplement companies that I can give the approval to. All of their products are backed by science, use the highest quality ingredients that are analyzed and certified. They use independent research labs to test the quality of their products for purity. They follow strict safety and cleanliness standards set by the Good Manufacturing Processes (GMP). And lastly, they offer full 60-day money-back guarantee so if for some reason you're not satisfied you can get a complete refund.
The Last Word
I've been taking BioTrust Ageless Multi-Collagen for a while now and it's become a staple of my daily regimen. It's good to know as the years go by I'll get less of the age-related skin issues like wrinkles, thinning hair and sagging skin. I see myself taking BioTrusts collagen for many more years to come.
With so many collagen products out there on the market today I know it can be confusing to find the best one. I've tested more than my fair share of collagen supplements and this is without a doubt the best one for the money. If you're looking to maximize the benefits of taking collagen then this one by BioTrust is the best you'll find.
Josh holds a Bachelor's degree in Exercise Physiology and Nutrition Science. He's a Certified Strength and Conditioning Specialist (CSCS) by the National Strength and Conditioning Association and he's a Certified Personal Trainer (CPT) by American Council on Exercise. He's worked as a Strength and Conditioning Coach at the high school and college levels. He has over 15 years of experience as a personal trainer and nutrition coach. He is also the author of The Flat Belly Formula. He strives to bring inspiration and results for people to live healthier lives through smart diet and exercise.