Bananas are one of the most popular fruits that just about everybody enjoys eating. Some even believe that bananas can help with weight loss but there are others who think eating bananas can make you fat.
But which is true? What exactly does science say about bananas and weight loss? In this article, we will explore the evidence to answer the question: "will bananas make you gain weight, or are they healthy for weight loss?"
Bananas are rich with nutrients, provide quick energy boosts, and are easy to take on the go – but it's possible they're also fattening because they contain so much sugar and carbohydrates.
One reason they're so popular is because of their sweet creamy taste. It's a healthier way for many dieters who want to get their sugar fix without consuming sweets and other foods loaded with table sugar. Yet we all know sugar isn't good for weight loss but is the sugar in a banana the same?
Here you'll find out if bananas are really fattening or if they're good for weight loss. And the answer is… it depends!
Are Bananas Fattening? Or Good For You?
First off bananas contain a lot of vitamins such as vitamins B6, C, and E. They are also packed with over 400mg of potassium. Potassium is good for heart health, metabolism rate, and the nervous system.
They also contain a high amount of fiber which is well researched to be beneficial in preventing cancer. There are some interesting studies that have shown people who ate a lot of fiber daily had less risk of developing colon cancer. (1)
But bananas are high in sugar and simple carbohydrates so it's possible they can be fattening too. Overconsumption of sugar is well known to lead to weight gain, type 2 diabetes, and obesity (2). Insulin resistance from eating too many sugars can make it harder for your body to burn body fat (3).
Yet, fruit advocates will be quick to tell you that the sugar in a banana are "natural sugars." Unlike table sugar which is sucrose the fruit in a banana is fructose which is processed in your body differently.
Fructose is lower on the glycemic index than sucrose so in theory, you shouldn't get the same blood sugar spiking impact from eating a banana as a candy bar. Eating foods higher on the glycemic index can lead to insulin spikes which can lead to weight gain (4).
Because of these simple sugars, bananas can provide a quick surge of energy for those looking to boost their workouts. Bananas are often eaten by athletes before big events for this reason (5).
But how much sugar is too much? Bananas do contain fiber which helps to slow down the absorption of fructose in your body – but will this negate any of the weight gain effects of consuming sugar?
Sugar In Bananas
Let's take a closer look at the sugar content in bananas: A medium banana contains about 14g of sugar.
So bananas are higher in sugar than say eating non-starchy vegetables but many fruit advocates say the sugars you'll get from eating a banana are small compared to other food sources.
For example, one cup of orange juice can contain up to 27g of natural sugars and an average-sized apple contains 18g of natural sugars too.
Bananas have a glycemic index of 51 out of 100 which puts them at a moderate level. But their glycemic load is higher with a score of 13 out of 20. The glycemic load is a measurement of a food's glycemic index and its carbohydrates.
These aren't ideal scores if you're trying to keep your blood sugar level low. But they're also not crazy high like drinking orange juice and eating a slice of white bread.
Plus the 3g of dietary fiber in a banana should help to slow its absorption which will further prevent your blood sugar from spiking (7).

But a calorie isn't just a calorie. Your body processes a calorie differently depending on the macronutrient.
Fructose is also processed differently in your body than regular table sugar. Fructose is processed and metabolized by your liver (8). This can become problematic if consuming too many fructose-rich foods.
Excess fructose can be converted into fat in your liver through a process called lipogenesis. Gradually this fat can build up in the liver leading to non-alcoholic fatty liver disease (9). This can impair your metabolism and make it more difficult for your body to burn fat (10).
Studies have found fatty liver disease can lead to weight gain, obesity, insulin resistance, and plaque build-up in arteries (11). So eating too much fruit despite its vitamins and dietary fiber can still in theory end up making you gain weight. But keep in mind you have to be eating a lot of fructose-rich foods for it to get this bad.
Eating too much fructose can also elevate your triglyceride levels leading to leptin resistance (12). Leptin is known as the "Fat Controller" hormone and keeps you from over-eating. So with leptin resistance, you could feel hungry more often causing you to overeat.
Depends on Your Body Type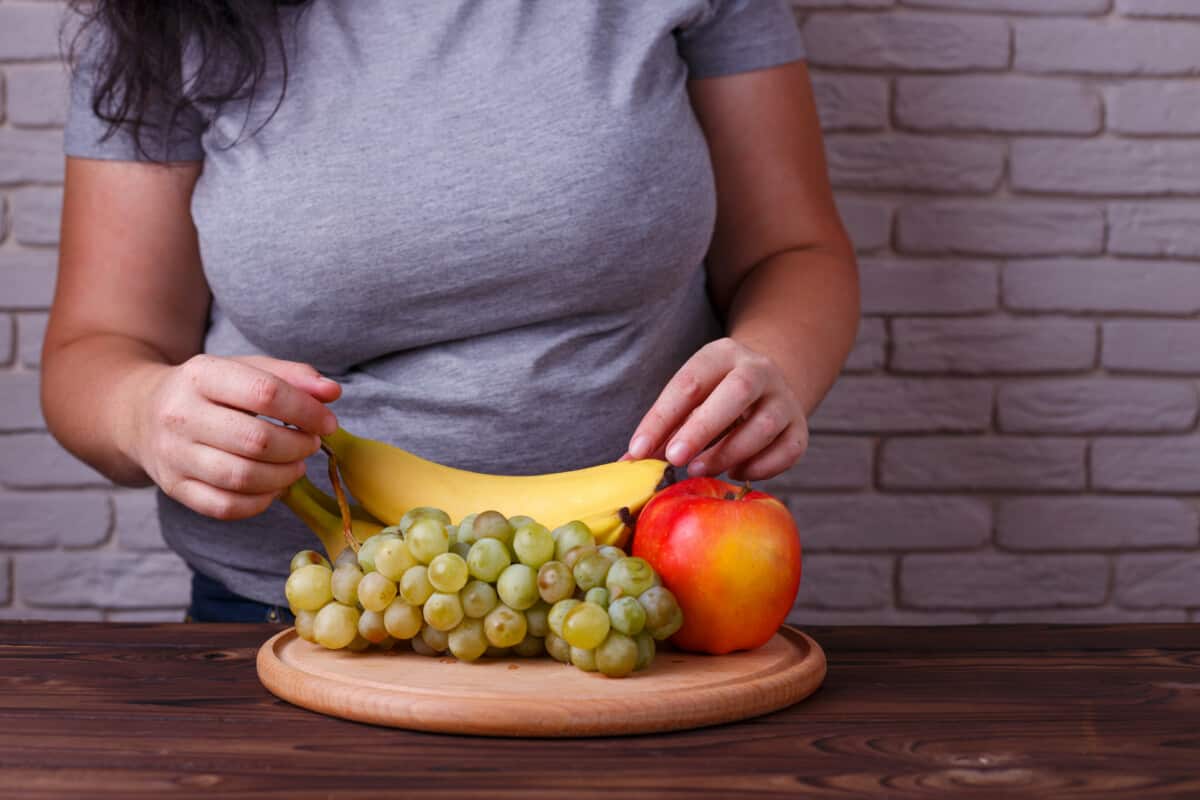 The amount of weight you have to lose will determine if eating fruits and carbs can be freely eaten if they will hinder your weight loss efforts.
Those who are more overweight, have higher body fat, and have or are borderline diabetic/insulin resistant should really avoid eating sugars, carbs, and starches. Most who fit in this category have a harder time processing these foods and it will make it more difficult to lose weight.
So if you have 10-25+ pounds of weight to lose then it's best to skip eating bananas or other fruits, sugars, and starches. Stick with non-starchy vegetables and very low-sugar fruits instead.
But if eating a banana satisfies your sweet tooth and keeps you from eating Oreos then the banana will clearly be the better choice. You can still effectively lose weight if you're counting calories and keeping your daily caloric intake in a deficit.
Keep in mind you probably won't lose as much or be as metabolically efficient compared to when you're skipping those fruits, sugar, and starches altogether. A low glycemic index diet results in greater weight loss in those with higher insulin levels (13). 
Now if you only have 5 pounds or less to lose (or none) then it'll be fine to eat a banana a day. Especially if you don't have any problems with diabetes and insulin resistance. You'll also get the health benefits from the fiber and vitamins that come in a banana.
If you do then it's better to eat the banana post-workout so your body puts those carbs into glycogen stores for muscle repairing (14).
The Best Kind of Bananas to Eat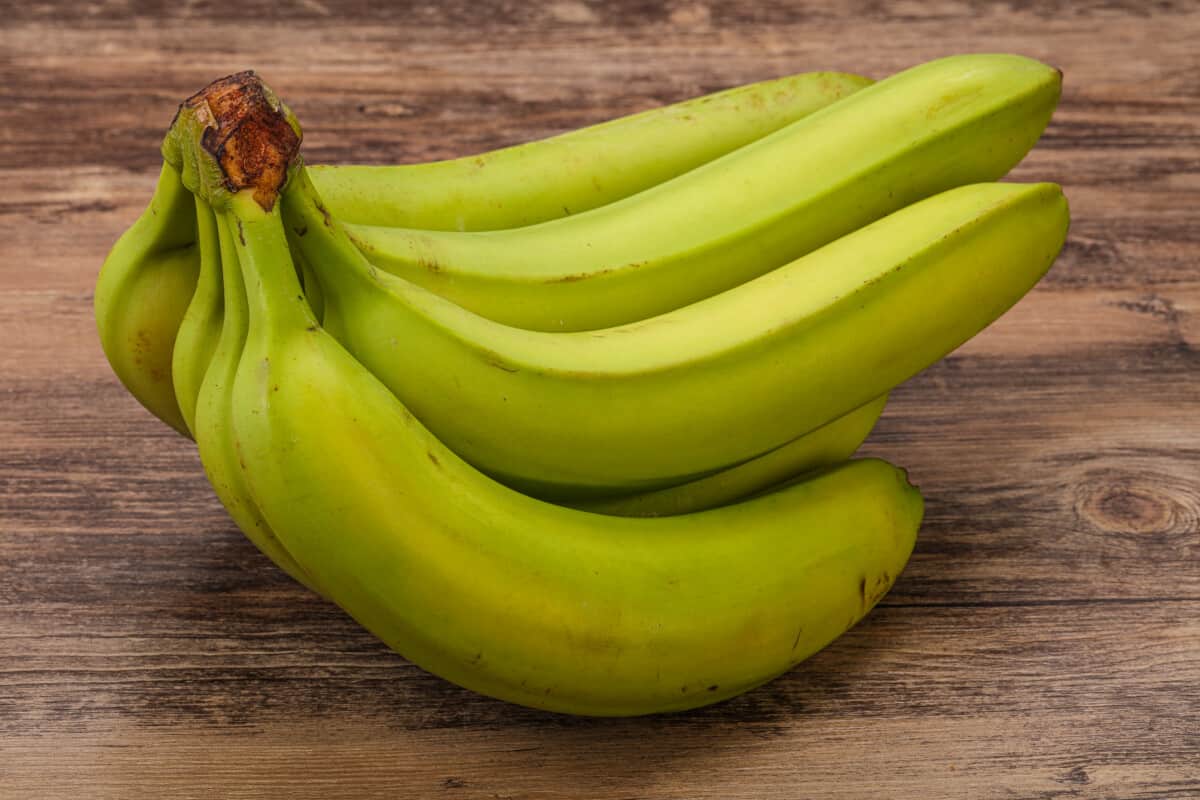 If you are going to eat a banana then it's best an unripe banana that's still a bit green. An unripe green banana contains less sugar and contains resistant starch (15).
Resistant starch is good since your digestive system doesn't break it down therefore you won't get as much of the blood sugar spiking effects you normally would from eating a banana.
Studies have found consuming more resistant starch can lead to weight loss, improvements to blood sugar, higher satiety, and more fat burning (16). You'll also have better bowel movements from the resistant starch turning into a source of fiber. It'll also act as a prebiotic creating a healthy environment for beneficial gut bacteria to flourish (17).
So if you are going to eat bananas make sure you eat greener ones and in moderation. A green banana will have more soluble fiber than a yellow ripe banana. Stay away from super ripe bananas that are spotted. They'll contain the most sugar as most of the starch has converted into sugar.
But I definitely wouldn't eat more than one per day. It's best to limit fructose especially if you're really overweight and have a higher level of diabetes or insulin resistance (18).
With that said you can still end up losing weight from eating bananas even with all those concerns. If you're keeping your calories in a deficit then the sugar and carbs from a single food shouldn't keep you from losing weight.
This is especially true if eating a banana satisfies your sweet tooth and keeps you from eating a big slice of cheesecake. It's clearly a much healthier food choice even though it may not be the most ideal one for losing weight.
Just stay away from eating banana chips or a dried fruit version since they can have more sugar and they're easy to overeat. I'd also avoid mixing eating a banana with fats. Many eat banana slices with peanut butter but this can possibly further promote fat storage.
The Last Word
So will bananas cause you to gain weight? It all depends. I personally try not to eat a lot of high sugar fruits like bananas, apples, and oranges. The truth is eating fruit can be fattening. I found I burn fat a lot easier and feel better too.
Fructose overconsumption can mess with your hunger hormones leptin and ghrelin causing you to overeat (19). This is why eating fruit such as bananas should only be done in moderation. I'll usually tell my clients if they're are going to eat a banana then only eat half at a time.
I stick to eating more vegetables and low sugar fruits like antioxidant-rich berries or avocado instead. I'll always recommend eating more non-starchy vegetables over fruits. But they're definitely not as tasty as fruits which is why I recommend taking a greens powder too.
So the truth about bananas being fattening or healthy for weight loss depends largely on your current body type, metabolic health, and the amount consumed. But I'll also be the first to say that eating a banana shouldn't be demonized like eating a super-sized McDonald's french fries.
The more weight you have to lose then the less you should eat to maximize your fat and weight loss. But eating a single banana here and there also won't be the one thing holding you back from getting results.
Josh holds a Bachelor's degree in Exercise Physiology and Nutrition Science. He's a Certified Strength and Conditioning Specialist (CSCS) by the National Strength and Conditioning Association and he's a Certified Personal Trainer (CPT) by American Council on Exercise. He's worked as a Strength and Conditioning Coach at the high school and college levels. He has over 15 years of experience as a personal trainer and nutrition coach. He is also the author of The Flat Belly Formula. He strives to bring inspiration and results for people to live healthier lives through smart diet and exercise.