Here in my review of Amazon Elements Grass-Fed 100% Whey Protein Isolate powder, you'll discover everything you need to know about this popular protein shake.
I know what it's like to come across a repackaged product under a label like Amazons or Costco's Kirkland. I always get a little suspicious at first because you don't always know what you're getting.
But big successful companies like Amazon and Costco do this to provide a quality product at a lower price. Amazon probably wouldn't even put in the effort to repackage a product like this if it wasn't worth it for them.
For you and I the consumers we can get a better deal on a quality product that you'd otherwise have to pay significantly more for. Kinda like how Costco Kirkland batteries are really repackaged Duracell batteries.
And being a protein snob myself I've tried more protein powders than I can count. So here you'll uncover my pros and cons of the Amazon Elements protein powder.
Is Amazon Elements Protein Worth It?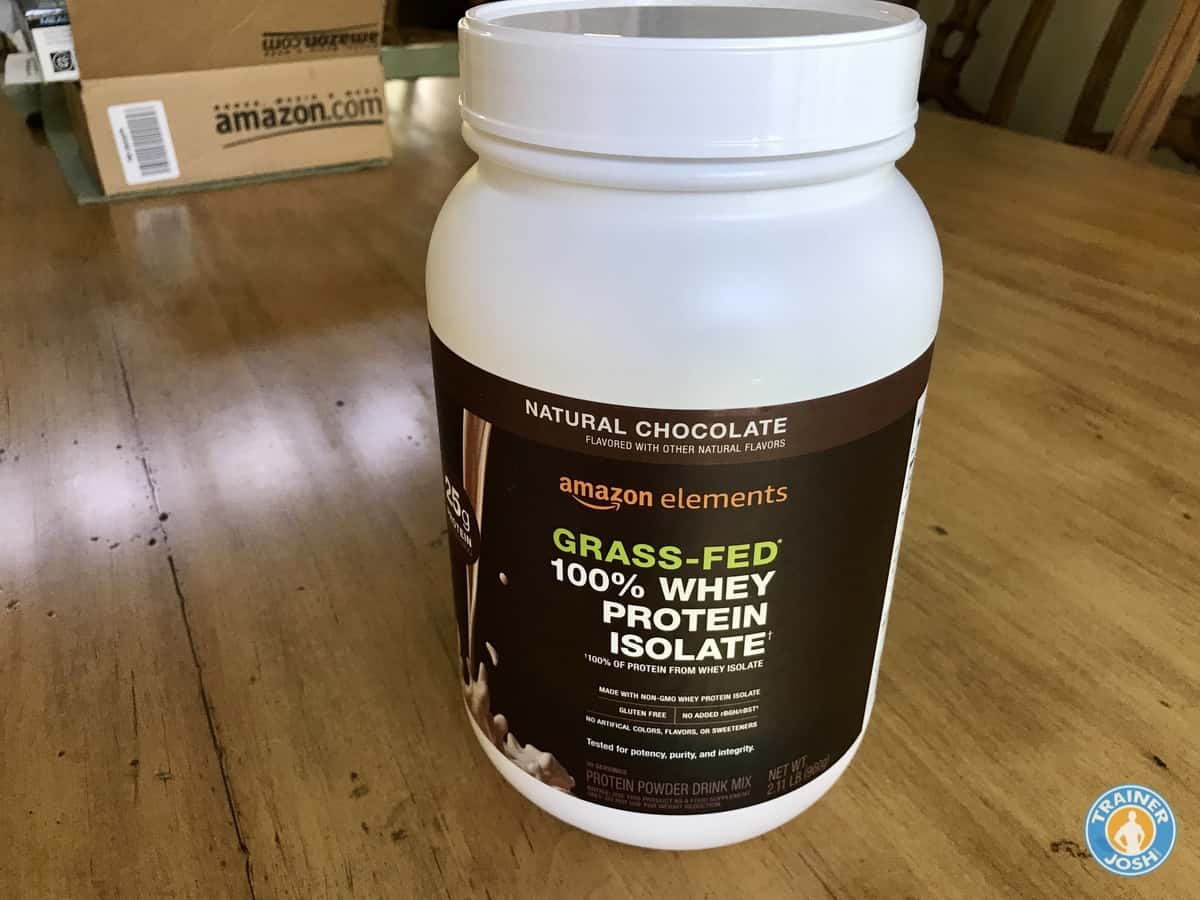 There are quite a few studies finding a higher protein diet can lead to weight loss (1). Most people looking into a protein powder like this one are either doing so to help them lose weight or to add muscle mass.
I can tell you with certainty taking a high-quality protein shake like this one will help you do both. One of the problems with just losing weight through dieting is you could easily become "skinny fat." (2) This is where your body appears to be thin but lacks any muscle mass. This leaves the body looking saggy, dimply, and mushy.
You can also use protein powders as a meal replacement shake if you're trying to lose weight. You'll cut down on a lot of excess calories you'd otherwise eat with a meal which in turn will help you lose more weight. Plus it'll help you maintain lean muscle mass during the weight loss process (3). Now it's a myth that eating too much protein can lead to kidney problems as more recent studies have proven this false (4).
I'm often asked by parents if taking a protein shake like this one is safe for their high school athlete children. And yes, it's more than safe to take a protein shake. It's not really any different than them eating a steak or chicken breast.
Benefits of Amazon Elements Protein Powder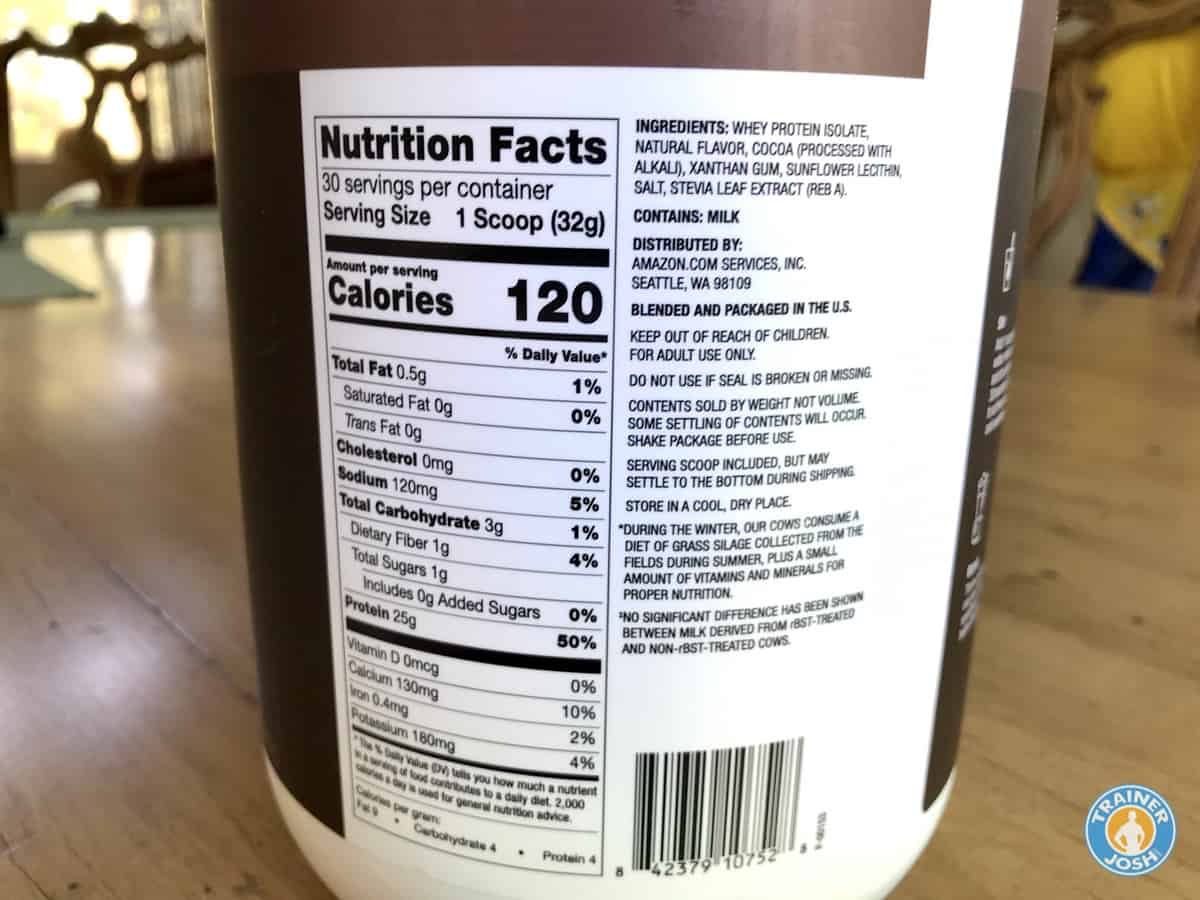 First off the biggest benefits you're going to get by going with Amazon's Elements protein is the cost. You're going to get a lot more bang for your buck than you would by buying the same protein from other manufacturers. So if you don't want to break the bank then this protein will be right up your alley.
If you browse through some of the reviews on this protein powder then you'll see that it comes highly rated. It has nearly 1,000 reviews that average out at about 4.5/5 stars.
And if your goal is weight loss then you'll be happy to know this protein only contains 3g of carbs and 0.5g of fat. Low carb diets have been found to help many people with weight loss (5). And it's also very low fat which is also great to help shed some extra pounds (6). Many other proteins on the market contain a high amount of carbs which isn't always great if you're trying to lose weight (7).
Amazon Elements uses a high-quality protein that's grass-fed and non-GMO. I'm a fan of grass-fed non-GMO protein powders as they're going to be healthier than protein from traditional corn fed cows (8). Plus this protein comes from cows that are free of rBGH and rBST hormones (9).
You'll get 25g per scoop of protein powder which hits the sweet spot (10). This is the perfect amount for most people who are trying to lose a little weight or add on some lean muscle. It's also whey protein isolate which is superior compared to other protein concentrates or blends (11).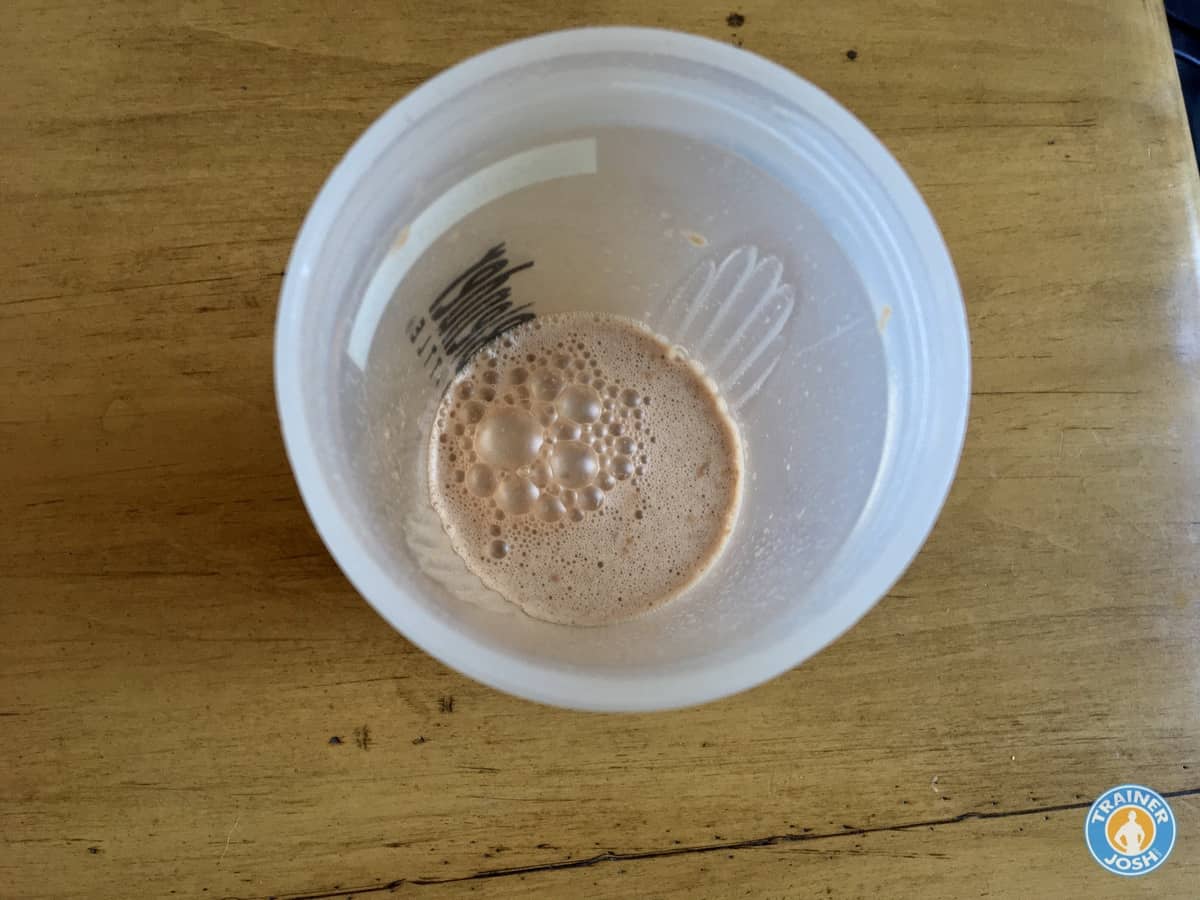 Think of whey protein isolate as already "pre-broken down" for you. This helps your body to more easily digest and absorb it. Whey protein isolate also contains a far higher concentration of protein at 90% compared to others which are down in the 20%. It only contains a minuscule amount of lactose and milk fat making it a good choice for those who are lactose intolerant (12).
I really like how Amazon Elements protein contains no artificial sweeteners or fillers. It uses my favorite sweetener stevia to add a little mild sweetness to it. Some stevia-sweetened proteins taste too over-the-top with a chemical artificial taste. But this one doesn't taste too sweet or over-flavored. I like how they stay away from carb-heavy maltodextrin and soy or gluten in their protein too.
One of the hallmarks of a quality protein powder is how easily it mixes. Being able to conveniently shake it up in a Blender Bottle is going to go a long way when you're at the gym working out. I was pretty impressed with just how smoothly this protein powder mixed when only using a shaker bottle. It's not super thick, without any visible chunks, and goes down effortlessly.
Lastly, the taste of this protein powder is quite good. I only have used the chocolate flavor but have heard from those who take the vanilla that it's good as well. The chocolate flavor has a subtle chocolate taste along with a slight stevia after taste but that doesn't linger. I like how they use natural cocoa for flavoring as it's also a potent antioxidant (13).
Cons of Amazon Elements Protein Powder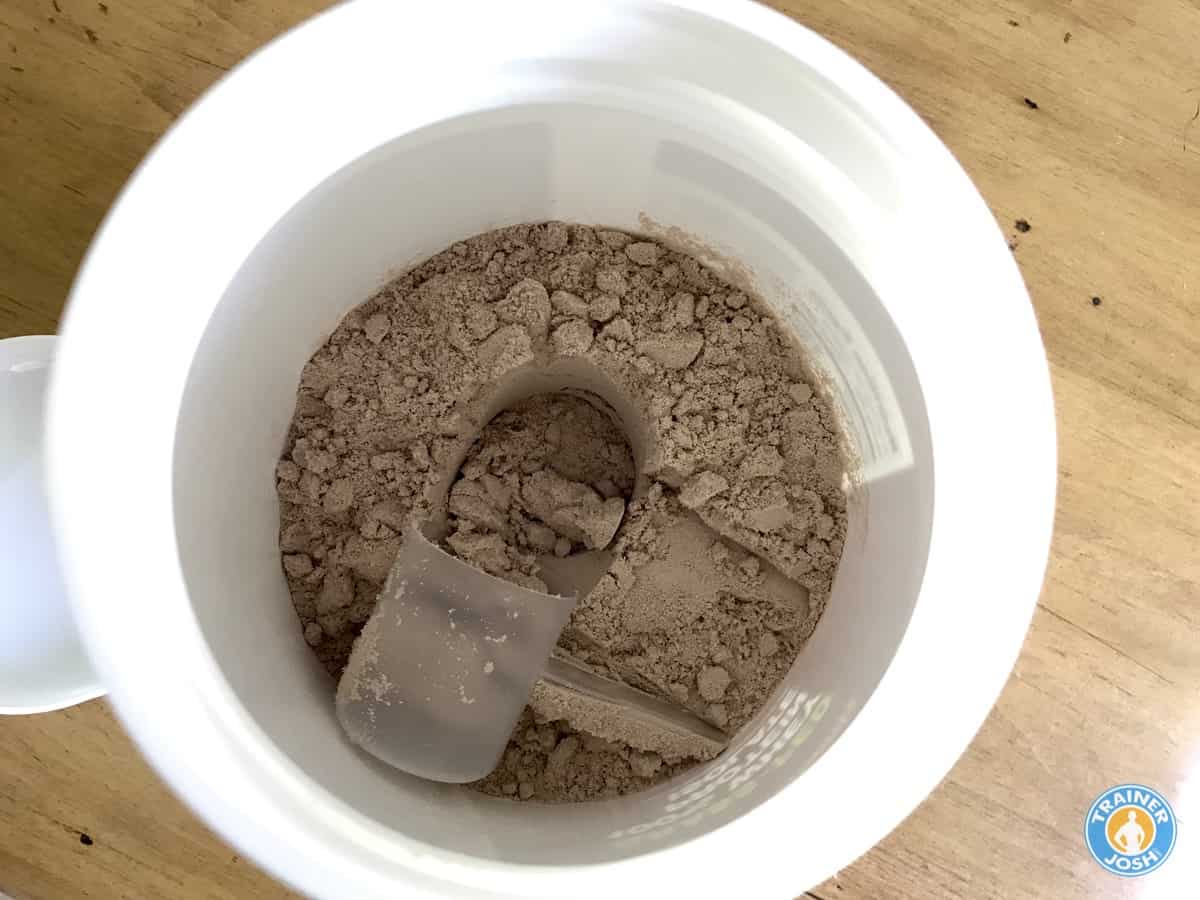 Now if you're really sensitive to the taste of stevia then I'm not sure this is going to be for you. I know some people can't stand the taste of it. So if that's the case then you should look at getting the unflavored version that doesn't contain any stevia.
The taste of the chocolate version wasn't super chocolatey. I actually liked this because many protein powders that try to go heavy on the taste end up tasting way too sweet or artificial. If you want to thicken up the shake then it'd be a good idea to try mixing it with some milk.
On the labeling it doesn't say if the protein powder was cold-processed nor what filtration process they used. This is a little concerning since the manufacturing process can make or break a protein powder. But it's good that they do say that the protein isn't denatured. This can commonly happen in the manufacturing process of whey protein isolate.
They also don't share the amino acid profile. It can be useful to know the leucine content in the protein powder as it's the most useful amino acid of them all (14). But if this isn't critical to you then it's not really that big of a deal.
This protein powder is also not organic. They are grass-fed but in the winter they're fed a diet of grass silage (pickled grass) that was collected from their fields during the summer months. They're also given vitamins and minerals to help ensure the cows have proper nutrition.
It's also produced in the USA but they do say they use ingredients other countries as well.
Why You Should Get This Protein
If you're looking for the biggest bang for your buck protein powder then this one is right at the top. You'll hit all the major points you want with a protein powder…
25g whey protein isolate
grass-fed
stevia sweetened
low carb & low fat
tastes good
blends easily
There are similar protein powder supplements you'll find on Amazon that cost 50% more than this one. So if you're looking to get a deal then I'd go with this one.
This is just a hunch but I have a feeling they're using this manufacturer to make their protein. It looks like everything is the same except the price. I've tried both many times and I couldn't tell the difference in one from the other.
The Last Word
At the end of the day taking a high-quality protein powder is going be a staple of anybody's diet who's trying to lose weight and/or gain lean muscle. If you're up for the challenge check out the protein shake diet.
But at the same time you don't want it to have to break the bank every time you buy some. That's why I like a lot of what Amazon Elements has to offer here.
If you're trying a protein shake diet then this one will help you drop some pounds fast. My other favorite protein powder is BioTrust Low Carb which is the one I usually recommend to clients. You can get a free container of it by using this special link.
You'll hit all the marks of a quality protein powder while saving some money at the same time with the Amazon Elements brand. So if you're looking to drop some weight and add some lean muscle then this is a great option.
Update: Amazon now longer sells this protein but here is my recommended protein powder pick:
BioTrust Low Carb Protein
Only 4g of net carbs but 24g and 150 calories in each protein shake. Fights hunger, supports lean muscle & toning the body.
Benefits:
24g of grass-fed protein from pasture-raised cows

cold-processed for highest quality undenatured bioactive protein

gut friendly prebiotics + digestive enzymes for maximum protein absorption and easy digestion
Josh holds a Bachelor's degree in Exercise Physiology and Nutrition Science. He's a Certified Strength and Conditioning Specialist (CSCS) by the National Strength and Conditioning Association and he's a Certified Personal Trainer (CPT) by American Council on Exercise. He's worked as a Strength and Conditioning Coach at the high school and college levels. He has over 15 years of experience as a personal trainer and nutrition coach. He is also the author of The Flat Belly Formula. He strives to bring inspiration and results for people to live healthier lives through smart diet and exercise.