What Are Good Carbs?
I'm sure by now you've heard my anti-bad carb preaching and how important it is to stay away from them to burn more fat but most people still don't know what are the good carbs?
Just because I'm always telling you to stay away from the bad carbs doesn't mean I want you to do something drastic like the Atkins Diet and avoid ALL carbs because this is a big no-no.  Instead focus on eating the good carbs along with your lean protein sources and healthy fats such as coconut oil.
Even though I already told you a huge list of the bad carbs you should never eat there are some carbs that are actually good for you and will help to slim down your body.
So What Are Good Carbs To Lose Weight?
When you break it down I would ideally recommend getting at least 90% of your carbohydrate intake from green vegetables. I know this doesn't sound very appetizing but it's really the best thing for fat loss.
I try to find ways to sneak in these green veggies all the time as I'll blend some spinach and broccoli into my protein shake and I'll also sautee kale with my eggs as well.
Juicing green veggies has helped out a lot and my usual blend includes collard greens, kale, celery, bok choy and cucumbers.
Fruit is another carbohydrate that should be very very limited if you want to lose fat because most fruit contains a lot of sugar in the form of fructose. This is naturally going to spike your blood sugar and causing your body to go into fat storing mode.
Fruits are going to be a lot tastier to eat than green veggies but the latter is going to be the best for fat loss. I try to think of food as fuel instead of a tasty treat every time I feel hungry.
Below is a list straight from my Food List Cheat Sheet from my Flat Belly Formula program with approved carbohydrates.
My List of Good Carbs
artichoke
arugula
bean sprouts
beet greens
bok choy
broccoli
Brussels sprouts
cabbage
carrot juice
cauliflower
celery
cilantro
collard greens
cucumber
green onions
horseradish
kale
mustard greens
onions
parsley
peas
radish
red peppers
romaine lettuce
rutabaga
spinach
Swiss chard
tomatoes
turnip greens
watercress
yellow squash
Also on the Food List Cheat Sheet I have a list of the 7 vegetables that you should LIMIT because they'll make you fat. If you have to eat these foods you should only eat them immediately following a metabolic resistance training workout.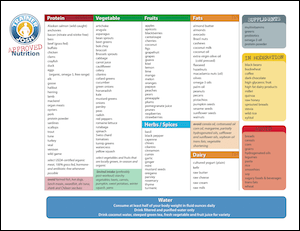 Unfortunately when a lot of people first hear they should limit the bad carbs that are making them fat they'll also neglect the good carbs that are going to help to increase their metabolism.
Nobody really likes eating green veggies all the time but when you think of them as fuel for your metabolism then it should help take some of the pain away. Eventually the more you eat of them the better you'll feel and the more likely you'll be to stick with them.
The hard part is developing these habits in the first place so you can accelerate your fat loss and eventually you'll only have to worry about maintaining your body instead of trying to catch up with it.