My 10 Best Gym Bag Essentials
To be completely honest I absolutely find and use every single inch of my gym bag to fit every essential I think I'll need for my workouts. Some of my friends at the gym call me the James Bond of fitness because I like to carry around all of my workout gadgets with me.
When I'm training I feel like I'm a carpenter going to work, and if I'm not supplied with the right tools then I won't be able to maximally perform. Of course, I'll also be the first one to tell you right off the bat that you don't necessarily need anything I'm about to list below, but it sure makes things a hell of a lot easier.
Don't let all the cool things I'm about to show you hold you back from starting a training program. The most important thing you can do right now is just get started. As you continue to keep word on your commitment to your training program try rewarding yourself with some of the gym bag essentials I'm about to list below.
Just like with nutrition, preparation is going to be of the upmost importance if you're going to maximize your workouts. I always create my workout for that day prior to driving to the gym so I have an actual plan of action when I get there. It's a pretty crappy feeling when you get to the gym and you kind of bum around from one area to another attempting to get a half decent workout in while you're chatting up a conversation with anybody in the vicinity.
There are going to be some of the other more obvious gym bag essentials I'm not going to be going into depths in this blog post such as spare clothes, deodorant, face wash, swim gear, travel sized toothbrush, extra protein bars and my Leatherman Wave multi-tool. If you guys really want to see what I wash my face after I workout then I'll save that for a future blog post.
The 10 Best Gym Bag Essentials
#1 The Gym Bag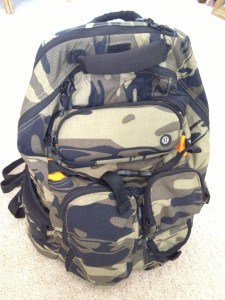 I've always been a backpack wearing kind of guy, and I never really bought into the whole duffel bag thing. Since wearing a fanny pack is not conducive to fashion, I opted to find a high quality backpack that wouldn't fall apart on me, but also one that wouldn't reek of sweat and gym monkeys too. After a lot of research on the internet I finally came across the backpack I've been using for the past year created by Lululemon. It's a really nice bag made with high quality waterproof fabrics that resist odors, which is absolutely necessary with a guy like me.
#2 Foam Roller + Lacrosse Ball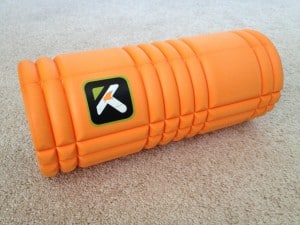 I use both of these items extensively in my pre-workout and post-workout rituals to prevent injuries and muscle aches. Some years ago I dumbfoundedly was introduced to the foam roller and lacrosse ball for the purposes of self-myofascial release, and it as seriously changed my life. My knee and back pain was getting so bad to the point I couldn't even sit in a chair for more than a half-hour. Even if I go a couple days without using these two inanimate massage therapists I'll quickly start to feel those aches and pains coming back again.
#3 Blender Bottle + Protein Powder + Athletic Greens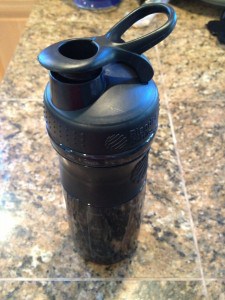 The assurance of a quick and easy yet well balanced nutrition shake can literally make-or-break your workouts. Your body will obviously not perform optimally while you're trying to train if it's malnourished and/or dehydrated. This can simply be solved with a Blender Bottle along with some high quality protein powder. I opt to add in a serving of Athletic Greens as well to help give my immune system a boost after an intense workout, although this can be eliminated if you're already taking a serving in the morning.
#4 Vibram FiveFingers and/or Minimus Shoes
I used to be one of those guys in the gym wearing the high tops with the thick soles, and I also happened to be the same guy with the knee and back pain. After making the switch to the minimal training shoes the FiveFingers and Minimus by Vibram my training program changed for the better. I could finally do a full deadlift without my knees hurting me or squat without my back wanting to give out. Of course, I spent several months slowly progressing to the point where I could wear these minimalist shoes without threatening an injury to my body. I'm so glad I did because I can't imagine wearing anything else when I'm working out.
#5 Chalk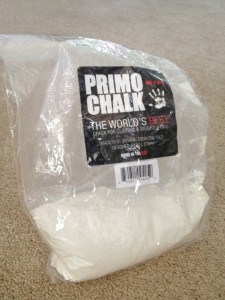 There's nothing I hate more than getting "in the zone" while training only to be slowed down by my grip. This is why I always carry around high quality chalk in my gym bag. I'm a big fan of Primo Chalk not only because it works great, but it's also made with organic essential oils designed to kill staph. I can be a little germophobic at times, and this helps to ease my mind to help keep those cortisol levels down. I don't like to use gloves when I'm training, and this chalk is awesome. Chalk is always going to be essential whether you're doing pull-ups, bench press or swings.
#6 TRX Suspension Trainer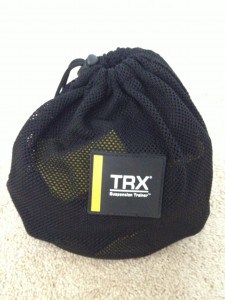 I pack the TRX Suspension Trainer with me whether I'm going to go train or if I'm traveling across the country. Even if you don't have a gym to train at you can still get an incredible all around workout with this gym in a bag. It weighs practically nothing and takes up only a minimal amount of space in my gym bag. You can use if for an infinite amount of exercises, and it's a great tool to help mix things up in your workout. I first purchased one when they originally came out and there's not a week that passes when I don't use it at least once in my workouts.
#7 SuperBands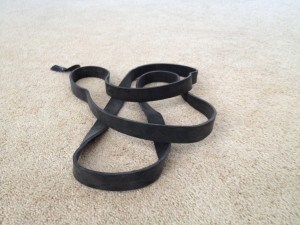 Along with the TRX, a SuperBand is a very lightweight and foldable training tool that can instantly add variety and difficult to an exercise normally thought to be too easy. I use SuperBands in my warm-up for X-Band Walks as well as during my workouts, and even post-workout when I'm stretching. There's so many different things you can use SuperBands for that I can't even begin to list them. I consider them to be a gym bag essential, and if I have space in my bag I always prefer to carry multiple ones with different thicknesses.
#8 Wireless Headphones + Arm Band Case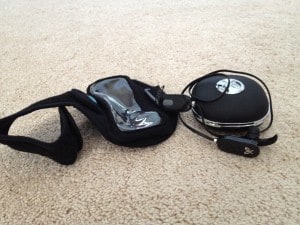 I can't honestly say I've ever met somebody who actually prefers to do their cardio without listening to some kind of music. I'm no different and if I have the option I'll always opt to have some motivational music pumping through my eardrums. I really like to use the Jaybird Wireless Headphones because I really hate having to deal with wires when I'm trying to sprint. I also sweat like a pig in a bacon factory so having sweat proof headphones is of the essence.
#9 Fat Gripz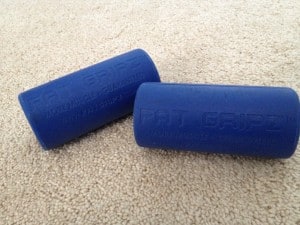 I've always been a fan of the Fat Gripz when I first saw them about a year and a half ago. I still use them regularly throughout my workouts to easily increase the circumference of the bar I'm lifting. It's rare to find a gym with a thick diameter bar you can readily use so packing a pair of Fat Gripz in your gym bag is going to simply solve this problem. Fat Gripz are more for men as I don't think too many women will have hands big enough to get much benefit out of using them.
#10 G-Shock Watch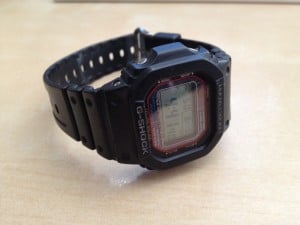 I've tried using heart rate monitors and I never seem to be able to stick with them. Either they stop working right or I just get tired of having to hook up the chest strap every time I want to use it. I really like the simplicity and ruggedness of G-Shock watches as they've stood the test of time with me. I use them religiously in my workouts to time my resting intervals so I can minimize the variables while experimenting with the latest training protocols. You can also use a good stopwatch if you don't like wearing a watch.